INFORMATION ABOUT GULMARG
About this Blog: Gulmarg is one of the most popular hill stations in India and is also famous as a ski destination. In this blog we will share our experience in Gulmarg, how to reach there, where to stay, Gulmarg Gondola, things to do in Gulmarg and more. Read this Gulmarg Travel Guide to know all about Gulmarg.
You can call Gulmarg a happy destination. Because I am sure you will feel nothing but happy in this beautiful hill station of Kashmir. Gulmarg is known as an ultimate skiing destination and one of the top winter destinations in India. It also has the world's highest Gondola ride. Apart from these there are lots of interesting things to do in Gulmarg.
In short, Gulmarg is spectacular in winter. Infact, this was one of the reasons I was skeptical to visit this place in the spring. Also the fact that we were exploring more of offbeat Kashmir in our trip, I had thought of skipping the popular Gulmarg. But boy! I was so wrong. The place is simply breathtaking in any season. And for a first timer in Kashmir, Gulmarg should be on your Jammu and Kashmir tour no matter what.
I do have to thank Agni for literally dragging me there. Yeah! Yeah! The wife is not always right! The husband also has great ideas (sometimes!).
Gulmarg literally means "the meadow of flowers". In summer, the green vistas of this place are dotted with colourful flowers. The place with its breathtaking beauty, mesmerizing landscapes, gondola ride and adventure activities is undoubtedly an all season destination. Read along to know our experience here along with things to do in Gulmarg, how to reach, where to stay and other relevant information.
Where is Gulmarg?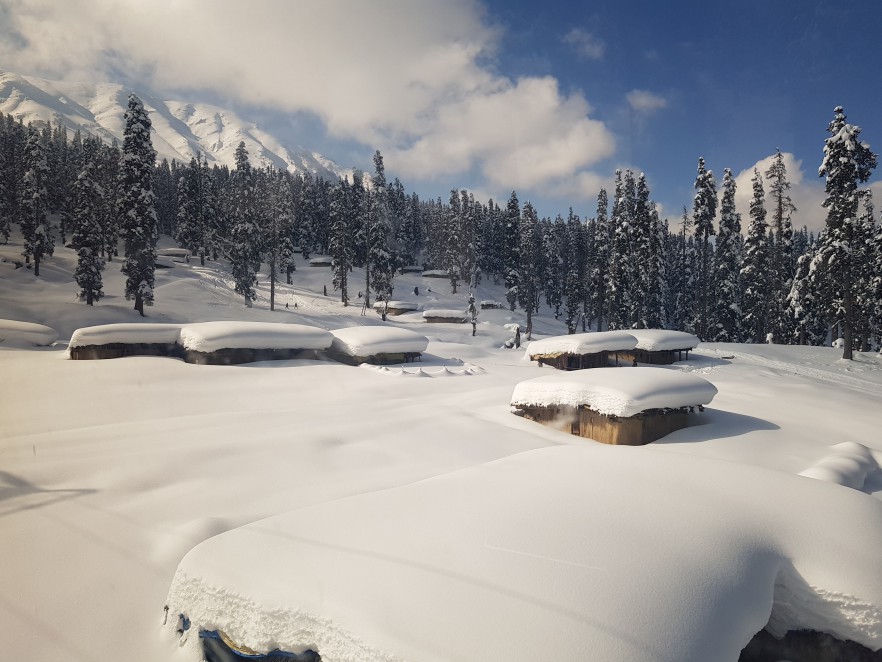 Gulmarg is a beautiful hill station located in the Baramulla district of Jammu and Kashmir. The town is located at an altitude of 8690 feet in the Pir Panjal range of the western Himalayas.
Sultan Yusuf Shah Chak had named this place 'Gulmarg' in the 16th century. He used to visit here with his wife Habba Khatoon.
Gulmarg was also one of the favourite destinations of Emperor Jahangir. It is believed that he had collected as many as 21 wild flowers from here for his own gardens.
During the British rule, Gulmarg served as a retreat for the British soldiers just like Darjeeling. Shimla and Mussoorie.
Is Gulmarg safe?
Yes, it is absolutely safe to visit Gulmarg. The place is visited by tourists throughout the year. The local Kashmiri are always courteous and helpful to tourists. And this is not only in this place, but the entire Kashmir. We have a detailed blog on If kashmir is safe for tourists. that you can read to know more.
Gulmarg Travel Guide
How to reach Gulmarg?
To reach Gulmarg, you have to first reach Srinagar. Srinagar is well connected by flights from New Delhi, Kolkata and Mumbai.
From Srinagar, Gulmarg is about 60 km and it takes about 90 minutes to reach there by car. You will get private taxis from Srinagar to Gulmarg. The taxi fare is Rs 2000-2500 including driver and fuel.
Gulmarg in shared taxi
You will not get any shared cab from Srinagar. You have to take a shared cab to Tangmarg. From there, you have to take another cab to Gulmarg. Local buses are also available, but only upto Tangmarg.
What is the best time to visit Gulmarg?
The best time to visit Gulmarg actually depends on what you want to do there. If you are the one to enjoy snow and snow activities, then winter is your time. There are some who visit here to beat the heat of the plains. For them, summer will be the best time. For those looking for greenery in the valleys and flowers, July to September will be a good time. April to June is perhaps the busiest season.
Things to do in Gulmarg in 1 Day
There are a lot of things to do in Gulmarg. As much as we wanted to stay for a night here, we finally opted for a day trip. We decided we would stop for a night here the next time we visit in the winters.
We started quite early from Srinagar and soon we were out of the city. The first glimpse of the mountains seems to show us what to expect for the day. Soon we reached Magam, a small village on the way.
Finally, we reached Tangmarg from where the uphill road starts. The landscape too changes gradually. The plains and fields of mustard are gradually replaced by tall pines and cedars. The green meadows looked soothing to the eyes.
Soon we reached Gulmarg, our destination for the day. The bus stop and parking area is a small place. The place itself is quite a small hill station totally dependent on tourism. There are a number of shops and eateries in the market area. You will also find a lot of guides and ponies in this area. Cars from outside are not allowed beyond this point.
As soon as we reached the parking area, a number of guides and pony owners approached us. Yes, you will be approached by them and they will ask you to take the help of guides or take a pony ride. If you wish to take a pony ride, you can definitely do so. It will help the local economy.
However, a guide is not required to explore this place. All the places are well marked and there is not much extra a guide to add to the stories.
If you like to walk around, then ponies are also not needed to explore Gulmarg. The attractions, though not very near, are also not quite far away. If you like to walk around, you can definitely explore the place on foot, especially if you are staying for the night. Let me share with you what we did.
We had reached Gulmarg by 9 AM and decided to explore the place on foot. The pony owners warned us that the places are all far away, but yet we stuck to our decision. We knew that the Gondola ride would start at 11 AM. So we decided to visit the Maharaja Palace first.
1. Looking for History in Maharaja's Palace
The Maharaja Palace was nearest to the Parking Area. Not that we found much history there, the palace was once a royal palace of King Ranbir Singh of Kashmir. The palace might have been quite grand once upon a time, but time has definitely taken its toll on this wooden structure. The palace looks beautiful from the outside surrounded by tall pine and cedar trees.
Unfortunately, the palace was closed that day. There was a lone guard sitting in front of the palace. Although he did not allow us entry, he did share a few interesting stories about the place. He mentioned that the Maharaja Palace is supposedly haunted and only a braveheart can venture to the place after the sun is down. Well, the worn down building along with the sky high trees did give an eerie appeal to the place.
After admiring the Maharaja Palace from outside, we decided to head out for our next destination. The guard also informed us that there is a viewpoint just a few steps away from the palace. It is not exactly a viewpoint, but you get a great view of the Baramulla plains and the mountains from there. Pakistan is just beyond those mountains, the guard informed.
Maharaja Palace has a nominal entry fee of Rs 30.00.
2. Gulmarg Golf Course
To be honest, I was awestruck seeing so much green. It was here I decided for the first time that Gulmarg is a happy place.
Gulmarg was once a retreat for the British troops in India. The British quite loved a game of golf and so they developed golf courses in this quaint hill station. The gold course was opened in 1911 and is one of the highest ones in the world. The first Golf Championship was played here in 1922.
The Gulmarg Golf Course was redesigned and reopened in 2011. I do not understand anything about golf. However, I found the place quite beautiful. Everywhere is green and it is so soothing to the eyes.
3. St Mary's Church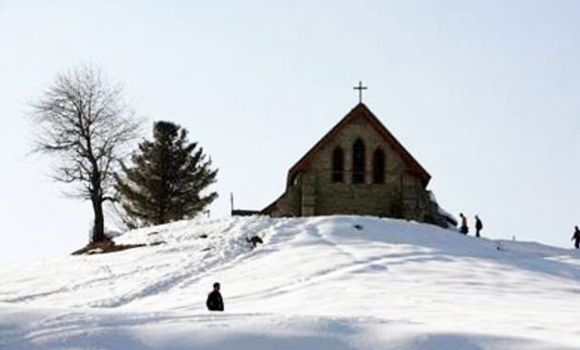 St. Mary's Church is located just near the Golf Course. The century old Victorian Church looks quite beautiful standing in the middle of the meadows. The church has grey stone walls and is decorated beautifully inside. It is believed that the church was built in 1902 and was renovated later in 2013.
4. Go for the Gulmarg Gondola Ride
After marveling at the St. Mary's Church, we decided to go towards the Gondola Station. Gulmarg Gondola is by far the biggest attraction of Gulmarg. The cable car takes you from Gulmarg to the top of Apharwat Peak. Believe me, this cable car ride is a 'once in a lifetime' kind of experience.
Gulmarg Gondola is one of the world's highest operating cable cars. This ropeway is capable of ferrying 600 people per hour. The ropeway is divided into 2 phases – Phase 1 and Phase 2. Gulmarg is the starting point while Apharwat is the end point. Kongdori in between is the centre point and the end point of Phase 1.
The Gondola Station is about 1.5 km walking distance from the parking area. If you want to take a pony, it will cost about Rs 200-250.00.
The Gulmarg Gondola Boarding Point is a huge building. There is a ticket counter outside from where you will get tickets for both Phase 1 and Phase 2. You can get a ticket to Phase 1 only and then get your ticket to Phase 2 from the Phase 1 cable station.
We got our tickets for Phase 1 only and went inside the boarding station. The inside is quite impressive. Soon we were in the middle of a long queue waiting for our own cable car ride.
Gulmarg Gondola Phase 1
Fortunately for us, we did not have to wait more than 10 minutes in the queue. We heard that in peak tourist seasons, the waiting time is considerably longer, both while buying the tickets as well as at the boarding point.
We boarded the cable car and were off. It takes about 10 minutes to reach Kongdori, the Phase 1 station. In between we saw snow, pine trees, Gujjar settlements and more snow. It was an interesting ride. Once we were at Phase 1 station, we got down and stepped out. And this is what we saw!
There was snow and snow everywhere. All my desire to see snow in Kashmir was totally fulfilled. First we saw snowfall at Naranag and then on our way to Sonmarg. And finally in Gulmarg we were literally rolling in snow. As we walked down, we saw a few tourists trying their hand on skiing. Several others were playing with the snow while many were enjoying other snow activities.
What did we do? Well, I was totally ecstatic to see so much snow. Agni was equally happy! We walked, fell down on snow, had a snowball fight and did all the crazy things we wanted to do. Later I went for a snowmobile ride that made me all giddy with joy. I actually felt like a kid who has been given her favourite chocolate! Yes, Gulmarg is definitely a happy place!
There is an eating area where there are a few restaurants. We went there to have Kahwa and Kashmiri Pulao. We did not go to Phase 2 and decided to spend our time at Kongdori itself.
Gulmarg Gondola Phase 2
The boarding station for Phase 2 is just beside that of Phase 1. It takes another 10 -12 minutes to reach Apharwat Peak, the end point of Phase 2. The views from the peak are quite breathtaking. If you have time, you can trek to the Alpather Lake located about 5 km away. However, remember that the trail is quite steep. There are no eateries in Phase 2.
If you are planning to trek to Alpather Lake, start early and visit Phase 2 first.
The end of Phase 2 is actually not the Apharwat Peak. It is a part of Kongdoori Mountains, a shoulder of the Apharwat Peak. The top of Apharwat Peak is towards Alpather Lake and you have to trek to reach there.
After enjoying a considerable amount of time at Phase 1, we returned back to Gulmarg. We decided to walk around a bit and finally return back to the parking area.
The ticket cost for Gulmarg Gondola Ride for phase 1 (Gulmarg to Kongdori) is Rs 740 for Indians and Rs 1210 for foreigners for extended duration.
The ticket cost for phase 2 is Rs 1210 Indians and Rs 1900 for foreigners.
5. Maharani Temple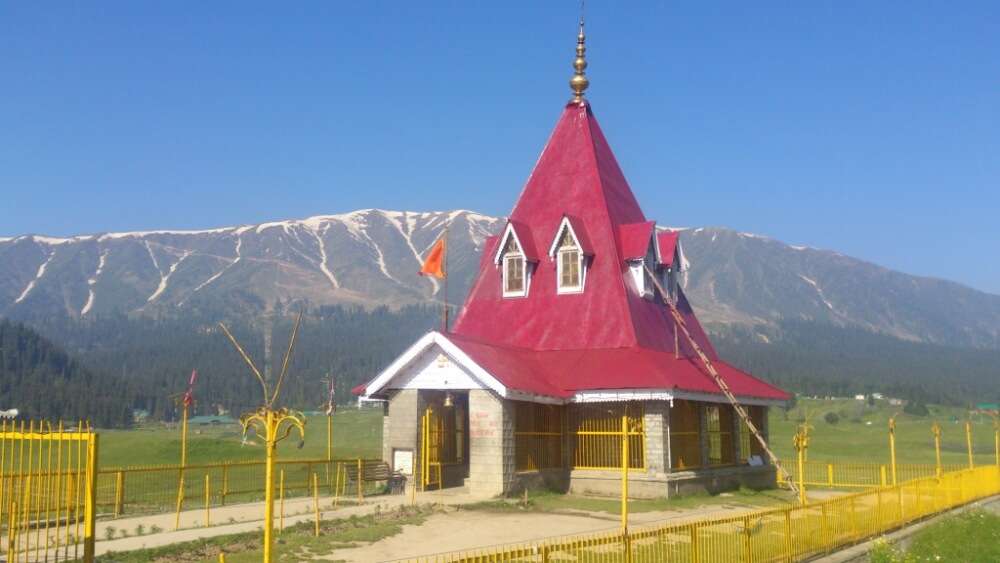 On our return, we stopped at the Maharani Temple. The temple, located on a small hillock is said to be the royal temple of the Dogra Dynasty. The temple was built by Maharaja Hari Singh and is dedicated to Lord Shiva. It is known as Maharani Temple because the queen Maharani Mohini Bai used to pray here everyday.
The priest of the temple is a Muslim. So yes, there is no religious intolerance here.
It was almost 4 PM when we returned back to the main parking area. We had a lot of fun in Gulmarg that day. We had in fact done all the touristy things that day. After all, Gulmarg is a fully tourist destination and there is a reason for the popularity of the place.
If you are staying here for the night, then there are a few more places that you can visit.
6. Strawberry Valley
This is a small area having a strawberry plantation. It is not really a valley. The plantation can only be seen in the winter months. So if you do not have much time in hand, you can easily skip this place.
Other Things to do in Gulmarg
The Ultimate Skiing Destination in India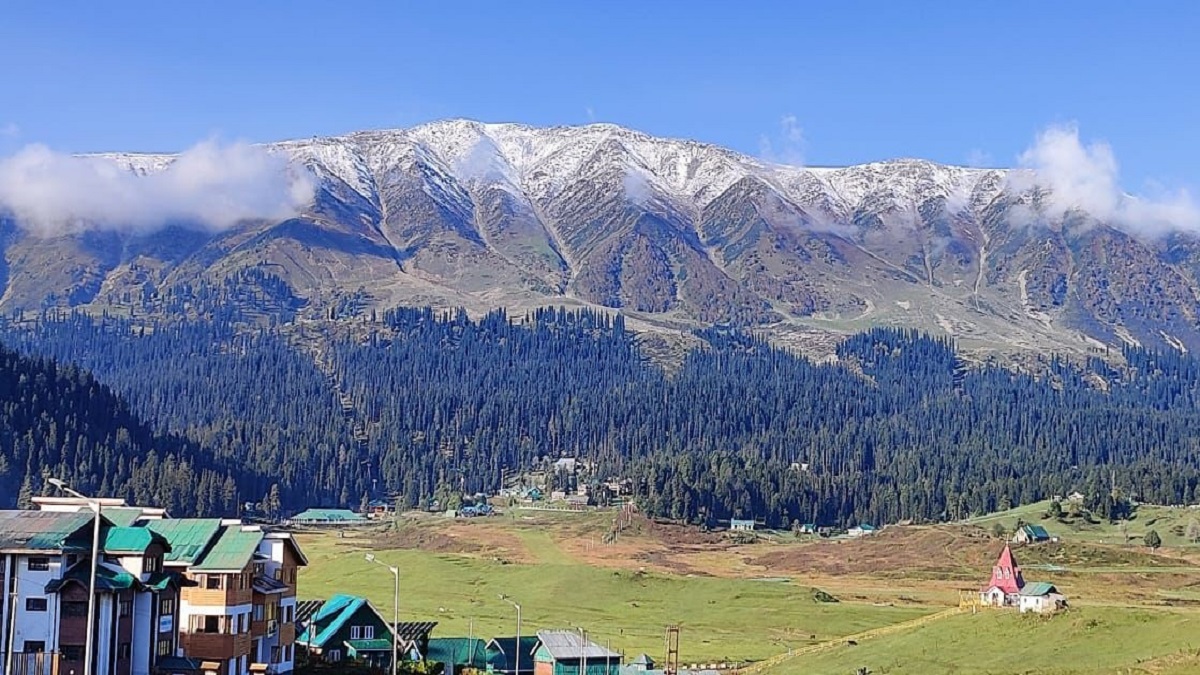 Yes, Gulmarg is the ultimate destination in India for skiing enthusiasts. It is the world's third highest ski-resort and is known to have the best powder snow for skiing in India. Basically there are different types of snow and powder snow is considered to be the best for skiing, for both professionals and beginners.
The majestic Apharwat peak is the longest ski slope in Asia. There are a few ski institutes here. Or you can also take the help of the local ski instructors. There are a number of equipment rental shops from where you can rent good quality skis, booths and poles. Whether you are a beginner or a professional, you will be totally enamored by skiing in Gulmarg.
Enjoy Winter Sports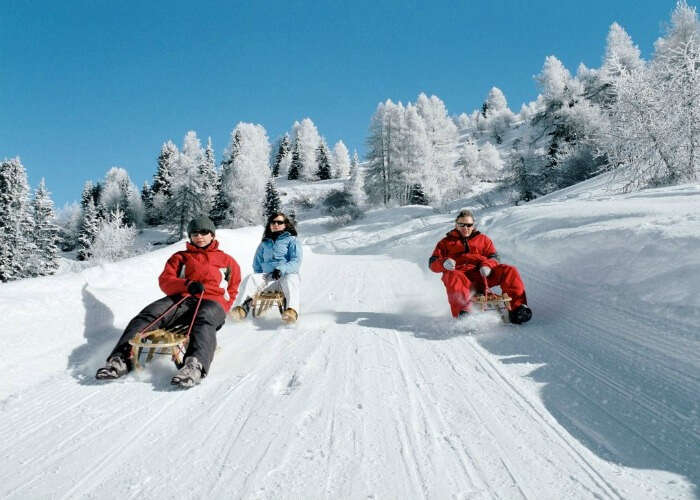 Apart from skiing, there are other winter sports that you can enjoy. You can go snowboarding, sledging activities and snow mobile.
Visit the Dargah of Baba Reshi
The shrine of Sufi Baba Reshi is located about 5 km from Gulmarg. You can visit there while going or coming back from Gulmarg. The Dargah is quite beautiful and is visited by a lot of devotees.
Tangmarg
Tangmarg is another stopover on your way to Gulmarg, located about 13 km from the town. Located on the lower foothills of the Pir Panjal ranges, Tangmarg is surrounded by rolling green hills with mountain peaks at the backdrop. The main attraction of Tangmarg is Drung, known for the frozen waterfalls.



Copyright 2021-2023 MAXIMTRIP. All Right Reserved